Shammam Consulting Services, Inc.  |  Microsoft Dynamics GP
Integration of all of your assets
Run an efficient business with fast, flexible deployment options, a familiar user experience designed to maximize personal productivity, and the ability to quickly bring together people and systems. Our specialists at Shammam Consulting, Inc. will sit down with you to discuss the options that best meat your business goals.
Grow your Business with Microsoft Dynamics GP
You may have started small, but hard work and dedication has helped you grow your small business to where it is today. If existing systems are impacting your growth potential, now's the time to take the next steps. Microsoft Dynamics GP helps businesses gain greater control over their financials, better manage their inventory and operations, and make informed decisions that help drive business success. It's quick to implement and easy to use, with the power to support your growth ambition.
Dive into the capabilities
Get the complete, flexible, and familiar tools you need to run and grow your small business and help your people achieve more. Start with what you need now and easily adapt as your needs change.
Financial management and accounting. Manage your cash, assets, and banking.

Inventory management and operations.

Track and manage your production, inventory, orders, and vendors.
Sales and service. Manage your sales, service contracts, and field resources.
Business intelligence and reporting. Get real-time visibility and analytics to track performance and act with insight.
Human resources and payroll. Hire, train, and pay your team.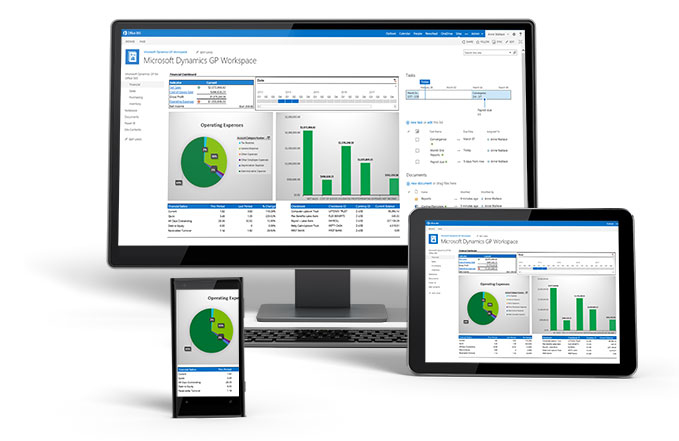 The complete ERP solution for your growing small business